Usually, when you are purchasing a smartphone, what is the first thing you look for? Many of us are very specific about the display size, which is the diagonal length of the display, corner to opposite corner.
The screen-to-body ratio is a measure of how much the display covers the front face. It is presented as a percentage.
A device having a screen-to-body ratio of 50% shows it has as much body surface on the front as it has screen surface. A device with a 100% screen-to-body ratio indicates the front panel is covered by the display with no visible body.
Smartphones that have the largest screen to body ratio have their own charm. They look delicate and give it a premium look.
What Screen-to-body ration is ?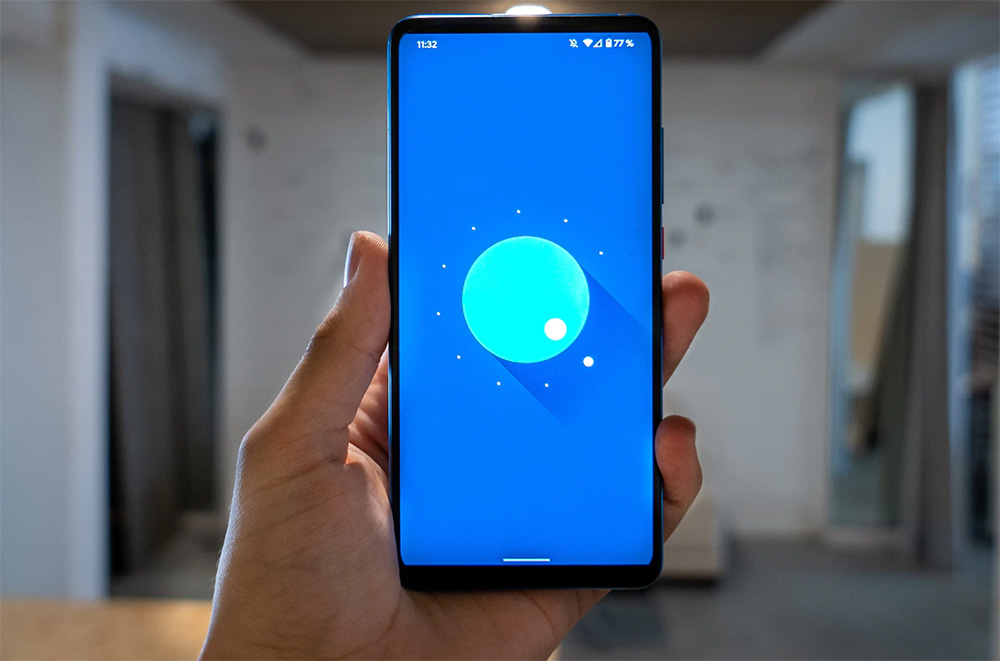 When smartphones had comparatively smaller displays, the screen-to-phone size ratio was not that important. You could reach everywhere on the panel in a fairly comfortable manner. But now, even if you have the most reliable compact smartphones, you might have problems reaching the top left side of the display with your thumb during a one-handed operation.
But phones themselves are getting huge and heavy, leaving an impact not just in our wallets but even in our pant or shirt pockets and purses. Some phone makers have taken notice and tried to trim the side bezels as much as possible.
Top 3 smartphones with highest screen to body ratio phone 2021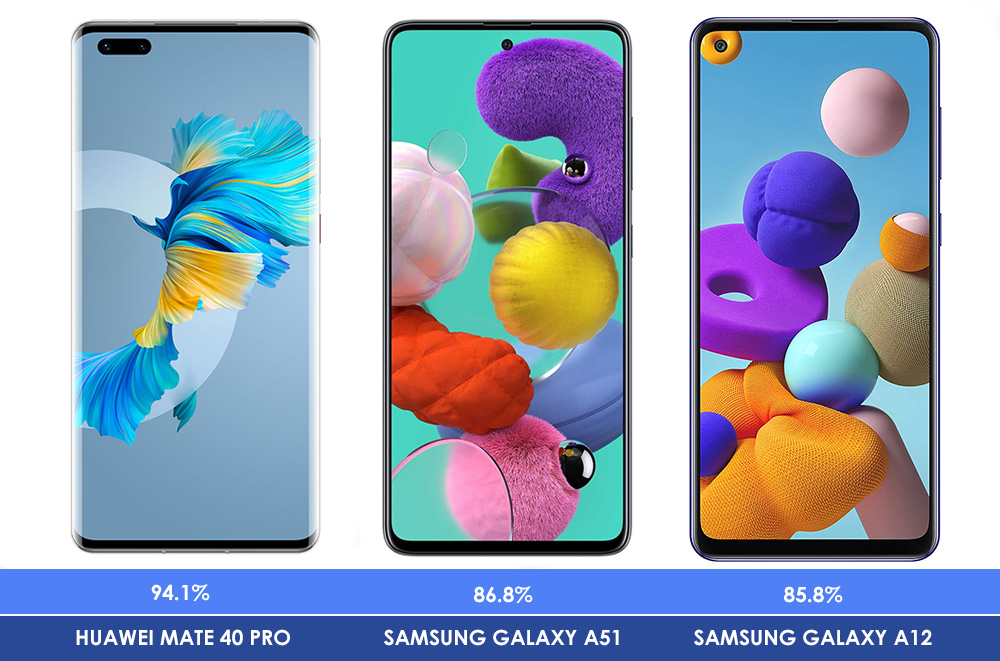 1. Huawei Mate 40 Pro/Pro +
Huawei Mate series is among those phones which don't emphasize Google mobile services (GMS), but this does is not a good reason to eliminate it from our list of smartphones with the largest screen to body ratio. Mate 40 Pro and Pro+ both own a 6.76 inches huge display that alters into a 94.1% screen to body ratio. Although, there is a more expensive Porsche design that is not modified in the display specs.
These phones give 1344 x 2772 px screen resolution and an 18.5:9 aspect ratio.
2. Samsung Galaxy A51 5G UW
Even though this device launched in the middle of 2020, it still holds the number one spot in this category.
The device is growing with a 6.5 inches Super AMOLED screen of 1080 x 2400p resolution. The screen to body ratio is 87.5%, which clearly crosses the closest rival, Infinix Zero 8, which has an 86.8% ratio. The display is guarded by gorilla glass, and the rear is just plastic.
This mid-range phone is provided with Qualcomm Snapdragon 765G, 6GB RAM, as well as 128GB internal storage. There is a quad-camera setup with a 48MP sensor leading them all, and on the front, it offers a 32MP selfie camera.
3. Samsung Galaxy A12
One of the most affordable phones, which is the Samsung Galaxy A12 has an 85.8% screen to body ratio.
Samsung once again easily crushes its rival, which is Motorola Moto G Stylus.
Unfortunately, the 6.5 inches display extends an HD display (720x1600p) and 264ppi density. There is even a Mediatek Helio P35 chipset running the show. There are 3GB, 4GB, and 6GB RAM variants depending upon the region.
How to calculate screen-to-body ratio?
Itis the ratio of viewing display size with the body of the smartphone.
For example,
You have a smartphone of Length: 100 and Width: 50
It contains a display of Length: 90 and Width: 40.
The area of the body of the smartphone is: 100×50= 5000
Thus, the area of your smartphone's display will be = 90×40= 3600
So Screen to Body Ratio is = (3600/5000) × 100 => 72%
So it means 72% of display present in a smartphone's body.
I believe that this article was beneficial for you and will help you in choosing a suitable smartphone. Here is a table of the screen-to-body of some of the latest models
Samsung
| | |
| --- | --- |
| Samsung Galaxy S20+ | 90.5% |
| Samsung Galaxy S21 Ultra 5G | 89.8% |
| Samsung Galaxy Z Fold2 5G | 88.6% |
Apple
| | |
| --- | --- |
| Apple iPhone 12 Pro Max | 87.4% |
| Apple iPhone 12 Pro | 86% |
| Apple iPhone 12 mini | 85.1% |
Huawei
| | |
| --- | --- |
| Huawei Mate 40 RS Porsche Design | 94.1% |
| Huawei Mate 30E Pro 5G | 94.1% |
| Huawei nova 8 Pro 5G | 91.7% |
| Huawei nova 7 Pro 5G | 89.6% |
Nokia
| | |
| --- | --- |
| Nokia 8.3 5G | 82.9% |
| Nokia 8 V 5G UW | 82.9% |
| Nokia 2.4 | 80.4% |
| Nokia 1.4 | 80.4% |
Google Pixel
| | |
| --- | --- |
| Google Pixel 5 | 85.9% |
| Google Pixel 4a 5G | 84.1% |
| Google Pixel 4a | 83.3% |