There is an increase in India's digital marketing institutions providing training in Bangalore, Chennai, and Delhi. I already have a list of the best digital marketing institutions in Chennai and Bangalore. A lot of people asked me which Digital Marketing Training Institutes are the best in Delhi? And so, I've come up with this list. Delhi is one of the top cities with training institutes providing such courses to help develop digital marketing careers. The metropolis offers several Digital Marketing Courses. Here is the list of "Top 5 Digital Marketing Training Institutes in Delhi" in no specific order.
Internet Marketing School is a well-known digital marketing training institution that Delhi has seen lately. Established in 2016 by the CEO of IMS Group, Mr. Sanjay Singhania, Internet Marketing School has recently become one of the leading centers of the breeding industry-dominating digital marketers.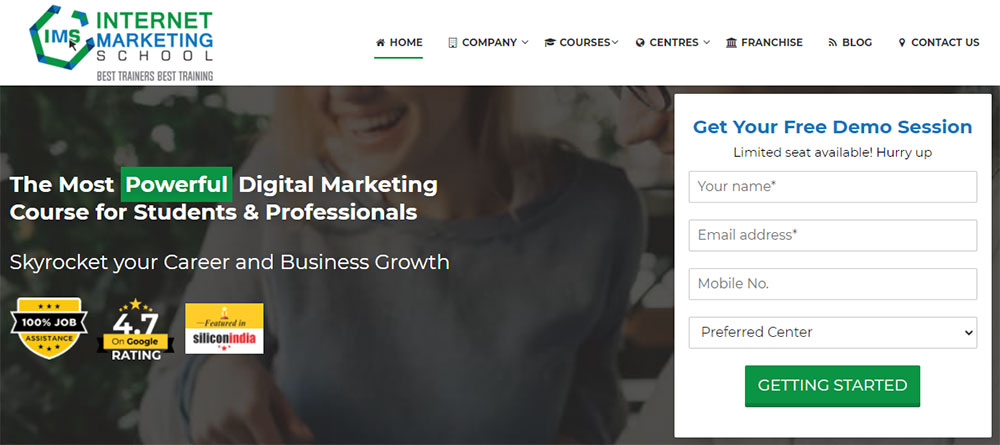 The best part of their teaching is that they provide online and offline courses for their current curricula. The ISO-certified institute has hand-picked training modules for freshers, job-seekers, working professionals, entrepreneurs, and business owners. The Google Partner Training Institute has accredited 6000+ students and put more than 4000+ of them. Internet Marketing School is the owner of a dedicated placement cell and an esteemed business group to take good placement assistance.
Courses They Offer
Certification Program in Digital Marketing
Premium Program in Digital Marketing
Course Content includes the following
SEO, SEM, SMM, Google Analytics, Email Marketing, Content Marketing, Mobile Marketing, eCommerce Marketing, Affiliate Marketing, Inbound Marketing, Lead Generation, Drop Shipping, Google Data Studio, and other best techniques related to advanced Digital Marketing by the industry growth.
Domain Authority
23
Alexa Rank
31,561
---
Established in November 2009 by Pradeep Chopra and Kapil Nakra, it is one of the world's most dominant digital marketing training companies. With their CDMM as a flagship program, they also offer 20+ Specialization Modules. All levels of instruction are offered to practitioners and students as well.
Courses They Offer
Digital Marketing, Email Marketing, Social Media Marketing, Inbound Marketing, Search Engine Marketing, Search Engine Optimization, Web Analytics and so on.
Domain Authority
48
Alexa Rank
11,833
---
It started in 2012 and was subsequently acquired by Digital Vidya in 2015. They have the goal of equipping the leaders of Global Organisations and Marketing for global transformations tomorrow. This Academy provides the creation of Practical Digital Marketing in addition to academic training. Highly trained and adept teachers mentor learners based on real-life experience working in the history of the industry.
Courses They Offer
Digital Marketing, Major topics inclusive of CDMA, CPDM, Google Adwords, Search Marketing, etc.
Domain Authority
18
Alexa Rank
1,621,092
---
It is part of Manipal Global Education Services that provides a wide range of technical certification courses in digital marketing. It has educated 50,000+ professionals under 100+ accredited courses and 500+ classroom courses. There are also 15+ Global Learning Partners and business experts, including Google, EY, ITC Infotech, HDFC, etc.
Courses They Offer
Digital Marketing, Analytics, Android App Development, Full Stack Developer, Java Developer, Project Management, Basics of Digital Marketing, Affiliate Marketing, UI/UX Certification, Mobile Marketing, etc.
Domain Authority
37
Alexa Rank
284,851
---
It is one of the finest institutions in Delhi to learn digital marketing at a pocket-friendly price. Particularly helpful for newbies, as they educate you on the different aspects of digital marketing and help you get a decent career. 1200+ individuals under 60+ batches have been qualified properly.
Courses They Offer
Digital Market, Stock Market, Web Designing, SEO, Advanced Digital Marketing, SMO, PPC, etc.
Domain Authority
23
Alexa Rank
214,667