The messaging app Telegram has become one of the world's most popular applications. Users appreciate the privacy offered by this application. Therefore, if you are using Telegram, you must learn about the security issues and learn how to permanently delete your Telegram account if you are one of those people.

Despite Telegram's recent popularity, this application is quite old. In 2013, Telegram made its debut.
Messages sent via Telegram are encrypted so that no one can access them. Telegram stores these messages on its servers so that users can reread them. However, TelegramTelegram became very popular in recent years due to the privacy it offered.

A built-in feature in Telegram will automatically delete your account after six months of not logging in to it. Unfortunately, the app does not offer the ability to delete Telegram accounts directly. Accessing the website is necessary for deleting your account.
As a warning, it is important to know that once you delete an account, it cannot be undone. This is permanent, and you cannot get your account back. As a result, you lose all your chat history, messages, groups, channels, and many other things. It is therefore important to double-check before deleting an account.
How to delete your telegram account?
1. Log in to the Telegram application on your phone to ensure your account exists. It is necessary to put your number and OTP that was sent by TelegramTelegram if you are not.
2. Log in to your Telegram account, and then go to the Telegram Authorization website, which can be accessed with any browser. You can delete your account here.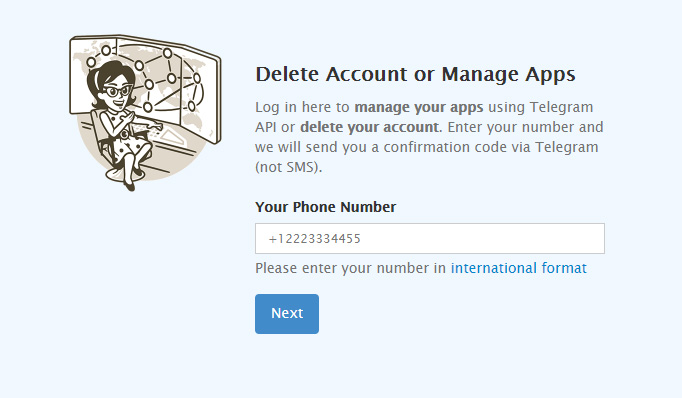 3. You are asked for your phone number again. Be sure to enter the country code as well as the number. Next, click the Next button.
4. You will then receive a Time Password from Telegram. Choose the New conversation from TelegramTelegram at the top of the Telegram app.
5. This is where you will get the confirmation code. Copy it.
6. Go back to the Telegram website, and paste the confirmation code. Click on Sign In.
7. Once the authentication is successful, you should see a list of options.
8. Here, find the " Delete account" option and click on it.
9. The website will then ask whether you want to delete the website and will ask for a confirmation. Here, you also have the option to mention the reason why you are deleting the account. Click on the "Delete My Account" button.
10. You will then see a popup message that asks for the final and last confirmation. Please keep in my mind that once you delete the account, there is no going back.
11. Once you click on the "Delete" button, you have successfully deleted the Telegram account.