Smartphones are getting feature-rich day by day, a better processor is the only solution. Today mobile processing capabilities are way better than what they used to be 5 years back.
A good mobile processors is required for following tasks:-
Gaming,
Taking better video and images
Enabling work from home
Watching videos in HD and 4k resolution
These are some of the most necessary roles a smartphone plays in our life. Mobile is now a part of life.
Do more, expect more with Exynos.
Unlike some of the other smartphones, Samsung prefers to manufacture its smartphone processors, besides Apple and Huawei. This allows them to build processors suitable for the phones. This might even cut back any extra costs for the company.
Exynos is one of the most popular processor chips, which are designed by Samsung. This processor is found in almost all Samsung phones, including the latest 5G flagship models. It is also being a game-changing technology.
List of Exynos Processor.
The Exynos 990
As we know, Samsung manufactures phones consisting of both Snapdragon and Exynos processors.
The latest Exynos chipset was the Exynos 990breleased in 2020. This offers a tri-cluster CPU architecture on high-end and flagship phones.
The technical aspects of the Exynos 990 come with a flagship-level Arm Mali-G77 MP11 GPU, which comprises a dual-core processing unit for ML.
Some of the Exynos 990's other exciting features include 8K video recording and 108 MP cameras. This processor also supports 5G connections via the bundle modems.
The all-new Exynos 2100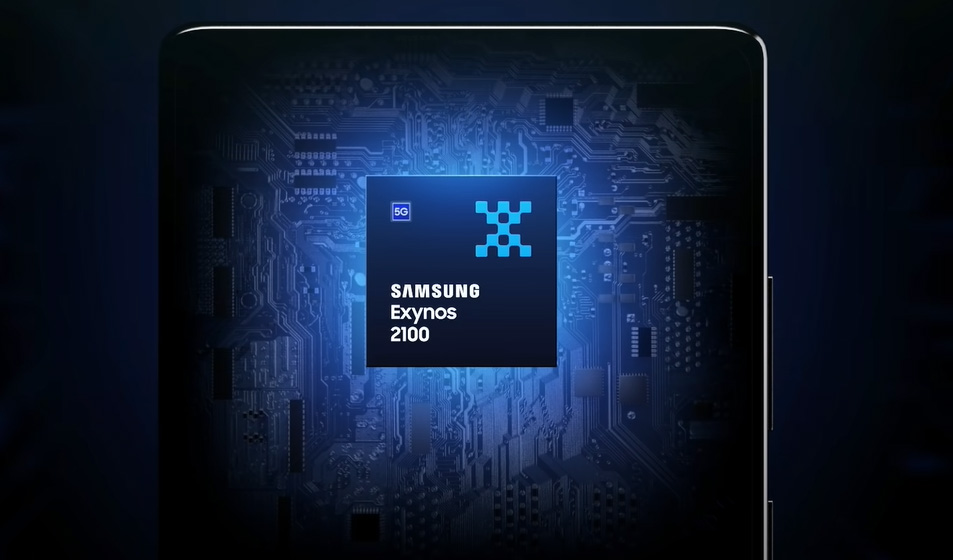 Samsung announced the all-new power-packed Exynos 2100 recently. This processor supports Arm Cortex-X1 core clocked at approximately 2.9GHz, three cortex-A78 CPU cores at 2.8GHz, and four Cortex A-55 cores running at 2.2 GHz. According to a report, the Exynos 2100 is rumored to give a thirty percent boost in the performance. This includes faster and better gaming without any lags and smooth-running apps.
It also features a 5nm semiconductor, which would result in 20 percent lower power consumption and a 10 percent improvement in the overall performance.
Coming to graphical performance, this chip features the new Mali-G78 GPU. This gives a whopping 40 percent improvement in ant graphic performance.
Exynos 1080
Samsung introduced its Exynos 1080 chipset last year. This can be considered as an improvement or a modified version of the Exynos 980 chipset. The Exynos 1080 is built on the 5nm EUV FinFET technology process. This processor can get up to 5.1 GBPS speed.
It is also an octa-core combined with its power-packed Cortex-A78 core. This gives better graphic performance and rendering. The Exynos 1080 is also built on the Mali-G78 GPU. Some of the other features include a 144 Hz refresh rate, combined with a Full HD+ resolution, and also supports 4K Ultra HD videos.
Exynos 9611
The Exynos 9611 is one of the most popular chipsets built by Samsung. This processor was introduced in late 2019 and is still extremely popular. This is built on the 10nm process. The Exynos 9611 features eight cores and has four Cortex-A73 cores at 2.3 GHz and four Cortex-A53 at 1.7 GHz. Like other processors, the Exynos 9611 also features a Mali-G72 GPU and supports 4GiB memory.
Exynos Vs. Snapdragon
Now, let's come to one of the most asked questions. What is the difference between the Exynos and Snapdragon chips? Let's look at some of the differences between these processors.
The first difference is that the Snapdragon processors usually are a quad-core chip, while Exynos are all octa-core chips. The unique architecture of Samsung Exynos allows the last four smaller cores to handle lighter tasks, while the main four handles heavy tasks like gaming.
The performance of the Samsung Exynos can be considered better. This is because Exynos beat Snapdragon in terms of speed, smoothness, and performance. This wasn't usually the case, but the version of the chip rose significantly in recent times.
Another difference is in the RAM speed. Though the difference is not noticeable, the all-new Exynos 990 beats Snapdragon. This is because the Exynos 990 has a small semiconductor when compared to Snapdragon. This can handle faster data transfers.
Exynos processors on budget
Samsung's budget Exynos processors haven't been that popular among the users. The latest mid-range processor is the Exynos 850 chipset. But, this might indeed be the most power-efficient Exynos chipset.
The Exynos 850 offers an octa-core Cortex-A55 CPU. This is enough for moderate performance and pretty good performance. This chipset set the difference from other lower and mid-end chips as most previous-generation Exynos processors had a quad-core processor.
The Exynos 850 is the perfect combo for moderate and efficient use of phones. This is extremely lightweight and comes with an 8 nm design—this processor, currently found in Samsung Galaxy A21, also offers a whopping 5,000 mAh battery.
The rest of Samsung's lower or lower-middle Exynos processors include Exynos 7870 and Exynos 7880. Even these processors offered Octa-core Cortex A-53 CPUs and had approximately a 14 nm design.
Samsung Galaxy f41
Samsung Galaxy f41 is one of the most recent flagship models that uses the latest Samsung Exynos 9611 processor. The speed of the Exynos processor here is mind-blowing. This phone comes with 6GB or RAM, and a top-tier camera where the Rear camera consists of 64MP + 8MP + 5MP.
The 9611 processor here gives the phone a hard push in the performance, and has increased its speed significantly. This phone also supports fast-charging, and gives a powerful battery of 6,000 mAH. The processor features 8MHz, and comes with an extra slot for storage upto 512 GB. As usual, the Samsung Galaxy f41 comes with Android 10 Operating System.
Samsung Galaxy S21
The Samsung Galaxy S21 is the all-new Samsung phone released on January 21, 2001. The Galaxy S21 is a top-tier flagship model, which provides spectacular performance.
This mobile comes with a whopping 8 GB RAM, making it easier to run any high-end mobile games.
Coming to the processor, the Samsung Galaxy S21 comes with the all-new Exynos 2100 processor. This gives the phone an Octa-core with 64-bit architecture. The Graphics device on the Galaxy S21 is Mali-G78 MP14.
The Samsung Galaxy S21 comes with a triple rear camera with a wide-angle primary camera and autofocus. Coming to the front camera, the Galaxy S21 offers wide-angle resolution here, too, with phase detection autofocus.
Samsung Galaxy S21 Ultra
The Samsung Galaxy S21 Ultra is considered the higher version of Galaxy S21. The S21 Ultra comes with 12 GB RAM, which is more than enough to handle top-tier games and applications. As expected, the Galaxy S21 Ultra uses the Samsung Exynos 2100 chipset, with Octa-core and 64-bit architecture. The GPU here is the same as Galaxy S21, which is Mali-G78 MP14. The bootup time of the Galaxy S21 Ultra is speedy. It is approximately 34 seconds.
This mobile comes with a quad rear camera, where the primary camera provides a wide-angle feature.